---

---

Frequently Asked Questions (FAQs)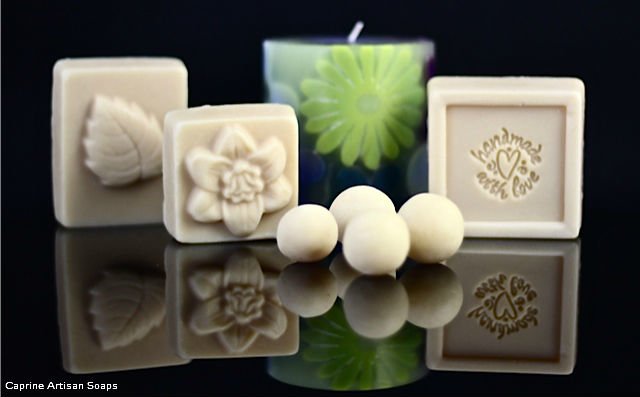 What are the ingredients of the soaps?

All our soaps are handmade with fresh goat milk (we don't use water in our bars), olive oil, coconut oil, palm oil, essential oils, and fragrance oils. Essential oils are obtained from plants for their beneficial properties and the oil also carries the scent of the plant. Essential oils are volatile oils because they evaporate quickly when exposed to air. Fragrance oil is a synthetic version of an essential oil. They do not offer the same therapeutic benefits as an essential oil but they do keep their lovely scents longer. Caprine Artisan Soaps uses a combination of essential and fragrance oils. Essential oils are very expensive. Some are so expensive that they are prohibitive to use in cold process soap making which is the best method. We use essential oils in our soaps as much as possible and whenever possible to offer the oils' therapeutic benefits to our customers. Fragrance oils are all about scent! They have the staying power that essential oils often lack. Fragrance oils are also ecologically friendly. Many plants that are used for essential oils are rare or endangered. Fragrance oils solve the problem of overusing these resources.

How much does each bar weigh?

All our bars weigh between 4.5 - 5 oz when cut. Soaps lose moisture as they cure and all our soaps are guaranteed cured for 8 weeks. Weights will vary when shipped. They become better as they cure because they become harder soaps and therefore will last even longer.

Shipping:

We ship priority mail via USPS and your package should get to you in 3 business days within the Continental US. We ship within 1-2 days of placing your order, and will send you an email of shipping confirmation as well as a tracking information. For shipping pricing to other countries than USA, Canada, Germany, Indonesia, Singapore and UAE, please contact us using the Contact Us button.

Distributorships:
For those who are interested in distributing our fresh goat milk soaps, please contact us using the Contact Us button above to the left.

How to use goat milk soap?

All our fresh goat milk soaps are moisturizing body soaps which may also be used to cleanse your face and shampoo your hair. It is a very effective and gentle make-up and lipstick/lip color remover without any harsh chemicals. Our customers also find that they use less lotions, if any, after using our fresh goat milk soaps. They also find that it is more economical to use our fresh goat milk soaps than commercially made soaps because of the many benefits our fresh goat milk soaps provide.


Storage of fresh goat milk soaps:

Natural and organic fresh goat milk soaps need to breathe. If need be, it is highly recommended that you wrap the fresh goat milk soaps with paper and avoid using any plastic material. In case, you use plastic material to wrap them, please air them as soon as possible. Do not leave them in your car especially during hot weather. Please keep the fresh goat milk soaps dry after each use to extend the life of the fresh goat milk soap. We highly recommend the use of soap dish or soap savers to help extend the life of the fresh goat milk soap. Their scents lasts a very long time. If you have to store them, please store them at a non-humid room away from sunlight.


What about skin allergies?

If you have sensitive skin or allergies to essential oils, please apply to a small area of your arm before using any of our fresh goat milk soaps. Most people find that they are able to use our fresh goat milk soaps without any problems but do proceed with caution. Should any allergies occur, stop immediately. We do carry a variety of fresh goat milk soaps that are fragrance-free which should be great for those with very sensitive skin.


Can pets use our goat milk soaps?

We highly recommend the use of our fresh goat milk soaps to pets. In fact, we have a special fresh goat milk soap bar for the beloved dogs of our customers - Schatzie's Suds.


What is the difference between commercial soaps and fresh goat milk soaps?



First, Caprine Artisan Soaps are made with organic and natural ingredients. Fresh goat milk contains a lot of vitamins like Vitamins A, D, B6, B12, Nicotinic Acid, Choline, Panthotheine, Folic Acid, Ascorbic Acid, Thiamine, Riboflavin and Biotin, Inositol - just to name a few. It is particularly high in Vitamin A which is very effective in helping treat and prevent skin disorders; helps prevent premature aging; helps in the maintenance of our skin; and helps stimulate the production of sebum which keeps the skin moisturized.



Second, it is recommended for people who have skin problems like rash, acne, eczema, psoriasis, etc. to use skin-friendly fresh goat milk soap. Fresh goat milk soap doesn't contain any harsh chemicals or any additives such as alcohol, petroleum, and preservatives; thus, it reduces the risk factors of having skin irritation and allergic reactions.



T

hird, fresh goat milk has a high moisturizing capability because it is naturally creamy. Dry skin is a major skin problem and many people suffer from it. Goat milk soap will never dry out the skin like commercial soaps; but, instead will moisturize your skin intensely. Goat milk soap naturally contains glycerin which is known to aid in softening the skin.

Fourth, fresh goat milk soap has alpha hydroxy acid. This alpha hydroxy acid is generally found in skin rejuvenation products. It helps break down the substance which holds dead skin cells together - like a natural exfoliant. Hence, it rejuvenates the skin and leaves new cells at the surface. Some commercially made soaps may add chemicals to achieve the same effect but obviously, this will have many side effects, one of which is skin damage.

Fifth, fresh goat milk contains selenium. Selenium has been known to help prevent skin cancer.

Sixth, fresh goat milk contains proteins which aid in keeping your skin free of bacteria that causes acne.